Spring Hike
May 1 @ 9:00 am
Hike is free. Lunch option availble.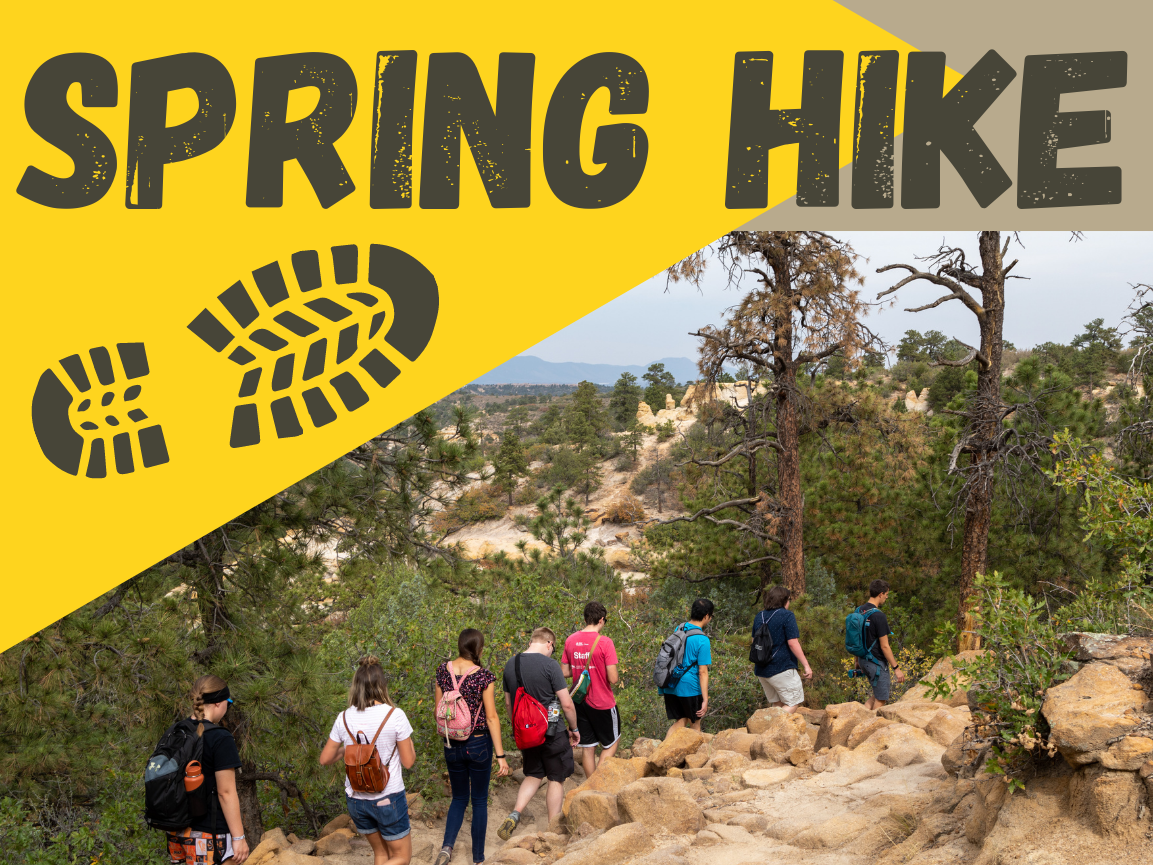 Before the end of the semester we are hosting a group hike! You won't want to miss this awesome event. We will be hiking Red Rock Canyon Open Space on Saturday May 1st and meeting at 9am. There will be a restroom at the beginning and end of the hike. For those who are available and wanting to, you are welcome to join us for lunch after the hike. See driving directions and lunch details below.
DRIVING DIRECTIONS:
We are going to try and meet in one specific parking lot at Red Rock Canyon Open Space so follow these directions.
1. To get to the park's entrance either follow the directions from the link below or put in 'ridge road and w high st' into your navigation app.
2. Once at that intersection you should see a traffic circle on your left, which is the entrance of Red Rock Canyon Open Space. Enter the traffic circle and take the second exit.
3. Then take the next right into the first parking lot.
4. Once in the parking lot if you turn left you will see the main trailhead where we will be meeting but feel free to park anywhere in that parking lot.
LUNCH DETAILS:
Afterwards, for those who are interested we will eat lunch at Bear Creek Regional Park around noon. We will park and meet at the first dirt lot. Drinks, chips, and other snacks will be provided. We will also be ordering Rudy's BBQ sandwiches. Each sandwich costs $7. If you would like a sandwich, indicate so on the RSVP from below. At this point please submit your payment through Venmo. If you get your order and payment in by Friday, April 30th we would be able to get your sandwich order in on time. If you would like to bring your own sandwich you can still enjoy the drinks and snacks. Gluten free options are available.
Payment Options:
1-CASH: You can turn in your cash payment to Brooks or Kent on Tuesday nights.
2-CHECK: You can make checks payable to BCM of Colorado Springs. Then you can turn in your check to Brooks or Kent.
3-VENMO: From your smart phone, go here. (If the link doesn't work, search for Christian Challenge or @Pay4CC on your Venmo app. Our QR code is also available at the back table on Tuesday nights.)